It is with heavy hearts that the music world and millions of "Parrotheads" across the globe mourn the passing of the legendary Jimmy Buffett. The man who created a laid-back, beachy empire and musical genre all his own has sailed off into the sunset, leaving behind a legacy that won't soon be forgotten.
Jimmy Buffett's music was more than just a series of notes and lyrics. It was a mindset, a lifestyle, and for many, a respite from the everyday hustle and bustle. His music invited us to take a step back, to enjoy the simple things in life, and to always find a reason to party, even if it's just a "Cheeseburger in Paradise."
A Life Well-Lived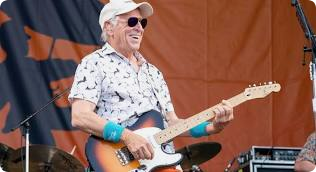 Born on December 25, 1946, in Pascagoula, Mississippi, Buffett led a life that many could only dream of. As a young man, he found his passion for music and quickly turned that passion into a thriving career. With hits like "Margaritaville," "Come Monday," and "Son of a Son of a Sailor," he painted vivid pictures of beach life, love, and leisure.
Buffett wasn't just a musician. He was an entrepreneur, an author, an actor, and more. His business ventures, from Margaritaville restaurants to hotels and casinos, expanded his brand far beyond his music. Yet, it was always clear that he wasn't in it just for the money. He genuinely loved what he did and wanted to share that passion with the world.
A Unique Connection with Fans
Jimmy's connection with his fans was truly special. The Parrothead culture, with its colorful attire, beachy attitude, and love for life, was a testament to just how much of an impact he had on people. Attending a Jimmy Buffett concert was never just about the music; it was an experience, a mini-vacation from reality, even if just for a few hours.
Preserving the Legacy
Though he has passed on, the spirit of Jimmy Buffett will undoubtedly live on. His music, timeless in its appeal, will continue to inspire generations to seek out their own personal Margaritaville, wherever it may be. His impact on popular culture and music cannot be understated.
It's up to the fans, the devoted Parrotheads, to ensure that his legacy remains vibrant. Whether it's by introducing his music to younger generations, revisiting his books and movies, or simply by living life with the same zest and zeal that Jimmy embodied, we can keep his spirit alive.
In the end, as we remember Jimmy Buffett, let us not dwell on the sadness of his passing but instead celebrate the joy he brought to so many lives. In his words, "If life gives you limes, make margaritas." Cheers to you, Jimmy, for giving us a soundtrack for the best times of our lives. You will be missed, but your music and spirit will forever remain.